I recently moved my buro up one level to the first floor, next to our bedroom. As I don't want our bedrooms to be bathed in wifi radiation all the time, I've bought and installed 3 develo powerlines AV500+.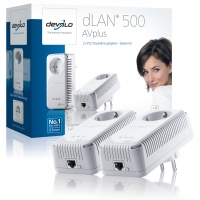 You connect one of these devices to your router via a network cable, and plug it in a socket. Then you connect up the others. Your network data is passed along via the powerlines, without needing to put wifi everywhere (plus it's a hell of lot faster – these ones can go to up to 500Mbit per seconds, fast enough to stream movies to your ps3 !).
I used to have 2 older Devolo devices, but those were manual setups – you needed to connect them to your computer, and run a config program to set the network ip address and other settings. It worked, but it was a nerd tool.
These AV500 ones are much more sophisticated and just work out of the box. Plug them in, hook up the network cables, and they just work. Excellent !
Additionally, if you want to, you just press a button on each and they set up an encryption between the devices. This is a way to prevent your neighbour – who may be on the same power network as you – from plugging in a similar device and getting access to your computers and NAS (Network Attached Storage).
You can also configure them via the DLAN cockpit program, which scans for them and shows them in a graphical way letting you change settings, etc.
The one I bought have integrated plugs that have an integrated filter that filters out the oscillations of the computers / networked devices that they work for.
The problem
The problem I had was that upstairs I was constantly loosing my network connection. It worked for a time, and then suddenly would shut down again. The other devolo in the living room worked just fine.
After some trial and error (involving a switch, a router and some reboots) I noticed that I had to unplug the devolo downstairs connected to the router, and then it would work again when I reconnected it.
Further investigation via the DLAN cockpit program showed that there was one thing different – the version number of the upstairs devolo was lower than the others.
So I upgraded this one to the same version as the other Devolo's and hey presto the problem seems to be solved – my network connection has been consistently up for the last 48 hours !
So, the conclusion is that all Devolo's need to be at the same firmware level.  Thought I would share it with you for those who might have similar problems.
[Please note that this did *not* solve all my problems completely, please read the followup if you are still having problems]