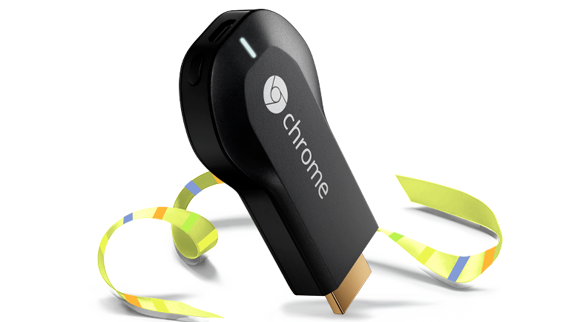 Last month I was passing through France and had the opportunity to buy a Google Chrome Cast doohicky for 35 euros; since then you can now also buy it in Belgium.
For those not in the know : the Chromecast dongle allows you to 'cast' things from your smartphone to your tv. So for example you can show Youtube clips or the latest snaps of your kids on your tv.
Setup is a breeze, really the easiest setup ever for such a complicated interaction of software and hardware – just install the hardware on your tv and install the chromecast app on your smartphone, the app gets you up and running in minutes.
Behind the scenes it must be quite complex: the app disconnects your smartphone from your wireless network, searches for the Chromecast dongle which is on it's own default network, and asks your wifi password so it can pass it on to the Chromecast, updates it with the latest firmware, reconnects to your network, and it's working ! I was fairly impressed with the ease of setup.
Once the setup is done, you can start 'casting' pictures, home-videos, etc from your smartphone to the chromecast. Each app that can do that has a chromecast icon somewhere that you can tap, and then select your chromecast dongle.
The data you are casting is actually not directly sent to the chromecast, but first goes up to the internet, and then back down to your dongle.
Disadvantage : your casted picture/video travels out of your local network, to make a detour on the internet – more distance makes it slower
Advantage : Google Movies / Netflix movies / Youtube clips stream at a decent resolution for your smartTV, and probably come 'directly' from the Google/Netflix/Youtube servers instead of traveling via your app.
I played around with it for few days, and here is my feedback :
It makes any tv with a spare HDMI and spare USB port a 'Smart TV' so you can upgrade your TV for a low low price of 35 euros
It plays well with your smartphone and any apps that can cast data (I use Android, YMMV on an iPhone)
In our world where our mobile phone is becoming more and more a centerpiece of our live, this integrates very nicely
If you could just use it for casting your own pics and (silly YouTube) videos, then the price of 35 euros is just right to make your tv smart, but it will be sitting mostly unused behind your tv: unfortunately out-of-view is out-of-mind
However, when you can use it to control your NetFlix account (or other similar streaming service)and order movies from your mobile to stream to your TV, *then* it becomes much more interesting !

Netflix has announced that it is coming to Belgium sometime this year. Meanwhile Google has quietly opened Google 'Play' Movies in Belgium as well… in the same week as they announced that their Google Chromecast is available in Belgium as well…

Hmmmm… smells like a strategy to me 🙂

(Visited 1,978 times, 1 visits today)