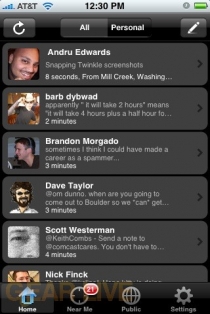 ??????
If there is not a lot of activity currently on this website, that's because I've discovered Twinkle : a combination of twitter + location awareness using the iPhone.
For those who don't know what twitter is : it's sorta like sending text (sms) messages to friends, but you can see them all at the same time. You can choose to just post status messages (going out with some friends, now out for a bite to eat, preparing for a big presentation) so that people interested in you can follow your 'tweets'. But those other people are doing the same thing, so you can decide to 'follow' their tweets as well. And that's when it becomes interesting.
Twitter allows you different views : your personal view which shows your tweets and those you follow, and a public view, where you can see ALL the tweets from that current moment, from all over the world. It's easy to read something and just fire a few words back, and then you get interested in that persons life, and you start 'following' them as well.
And suddenly you are in this microcosmos of lives of other people where you get glimpses of what they are doing and how they are feeling, and man! is it ever addictive !
You can even use it from your mobile phones and cell phones, if you set it up right.
Twinkle for iPhone adds location awareness (using triangulation of the cell phone towers your phone connects to) and by doing so takes Twitter to the next level. You have an additional view where you can specify the range around you (unfortunately, so far only in miles) in which you want to see other people who are using Twinkle.
That plus the ability to post a picture next to your post allows you to discover a lot more friends or similar-minded people who are living in your neighborhood, and are using Twinkle as well. And suddenly you have a lot more things to talk about. The weather, where are you hanging out, cool picture I didn't know that place before.
It's a friend (or at least contact) making machine !
You can find me via twitter with my handle "Lexstok".
(Visited 32 times, 1 visits today)