I just bought this sweet, sweet new DELL monitor : the S2716DG monitor with G-Sync. This monitor has a TN panel that's very good and can run at 144hz in G-Sync mode with selected nvidia cards like my GTX970.
G-Sync mode allows your card and your monitor to synchronize display refresh rates to the GPU in your GeForce GTX-powered PC, eliminating screen tearing and minimizing display stutter and input lag. The result in a game is no tear or blurry images, just buttery smooth gaming experience with crisp detail. I've tried Battlefield 1 before and after G-Sync and the experience is incredible.
One thing that bothered me was that when I initially searched on how to enable G-Sync, I could not find the menu entry in the nvdia control panel. I reinstalled all drivers and did a clean install of them just to be certain, but nothing changed. No "Set up G-SYNC" menu option. This really vexed me.
The solution seems to be a simple one, too simple really : just take out the displayport cable out of your screen or graphics card (you did use the dp cable to connect your screen, right?), then wait a moment, and plug it back in. After a second of hesitation, the "Set up G-Sync" menu option suddenly appears in the nvidia control panel. Problem solved !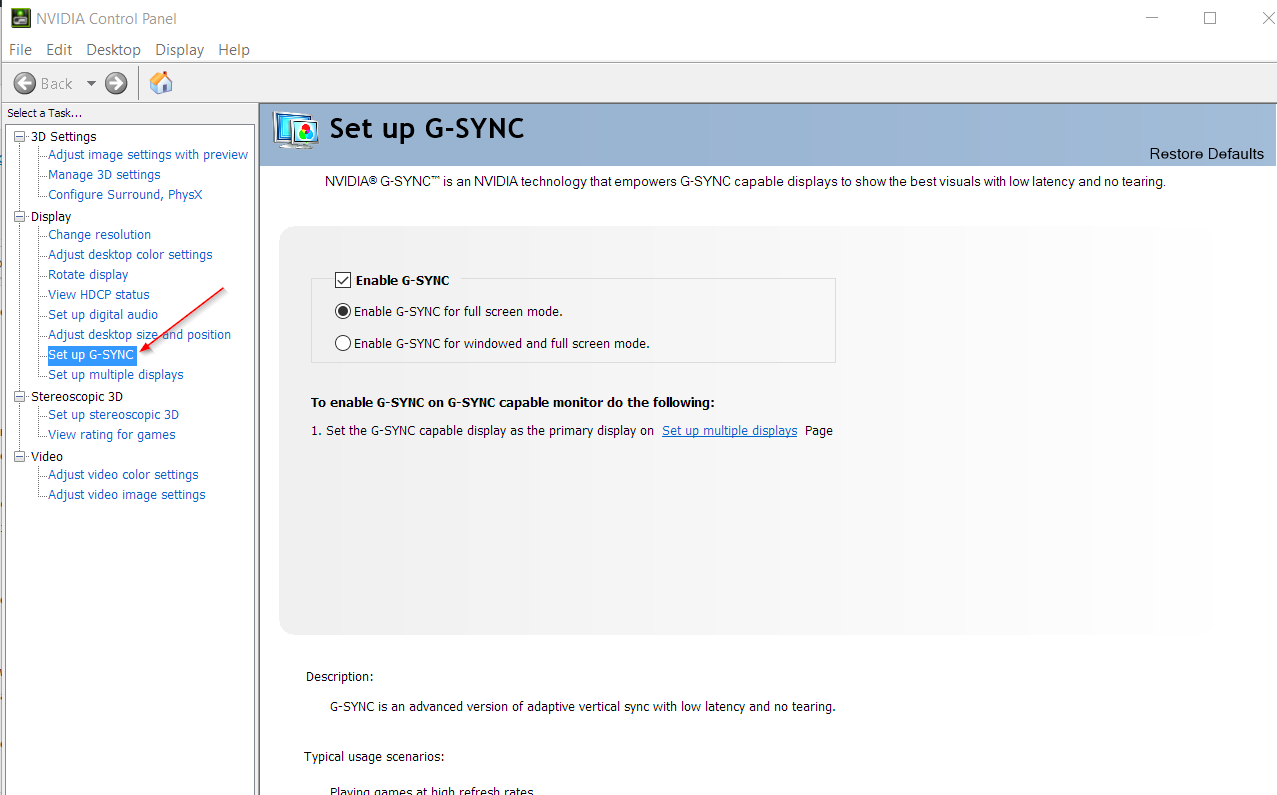 The build of the screen itself is great, with small bezels, and can easely be lifted or lowered to the correct setting, as well as tilted or turned. The foot it connects to is solid and has a quick-release button.
But the default factory settings make the screen somewhat bright and harder to read than it should be. And the menu panel of the monitor doesn't allow you to change the gamma settings, however with the nvidia control panel you can set it up correctly.
I found some settings on Reddit that I tried and quite liked. They are here for my own recall and perhaps your help should you want to try them out :
Nvidia Control Panel>Adjust desktop color settings:
Brightness-50% SAME
Contrast-50% SAME
Gamma-0.75% DIFFERENT
Digital vibrance-60% DIFFERENT
Hue-0 SAME
Click APPLY to save the settings.
DELL Monitor settings:
Brightness-30% DIFFERENT
Contrast-75% SAME
Color > Custom Color: R-97% G-99% B-96%
This definitely made the screen colors more vibrant and noticeable. The screen is a bit pricey, but not as much as the others, and the results are very good.
(Visited 1,847 times, 1 visits today)