Last month April I started running again – this time using the start2run podcast series published by een.be, our governement sponsored radio. You can either download them as mp3s to play on your mp3 player, or you can subscribe to the podcast using iTunes.
Start 2 Run is a training programme for beginners that varies the number of minutes you run, each time you run increasing slightly the time you run versus the time you walk.
I'm using my iPod Nano, together with the Nike+iPod connectors to monitor my progress. A sensor attached to one of my running shoes transmits my paces to the iPod, which has a bluetooth connector. Once back home, when I sync the iPod nano with iTunes, it transmits the information to the Nike+ website were it is all shown in gorgeous Flash. Honestly, being the geek that I am, this pushes me to keep on running.
So far, I'm progressing nicely ! Basically the time I'm running is about the same always, between 22 and 25 minutes, but I am running further and faster the more I train and the further the lessons progress.
The podcast series assumes you run Monday, Wednesday and Friday, but I can only manage Tuesdays and Thursdays, with Sundays either doing the garden work or swimming. So I'm going a bit slower than normal, but I don't think this is a bad thing.
I started running April 10, and this is the result :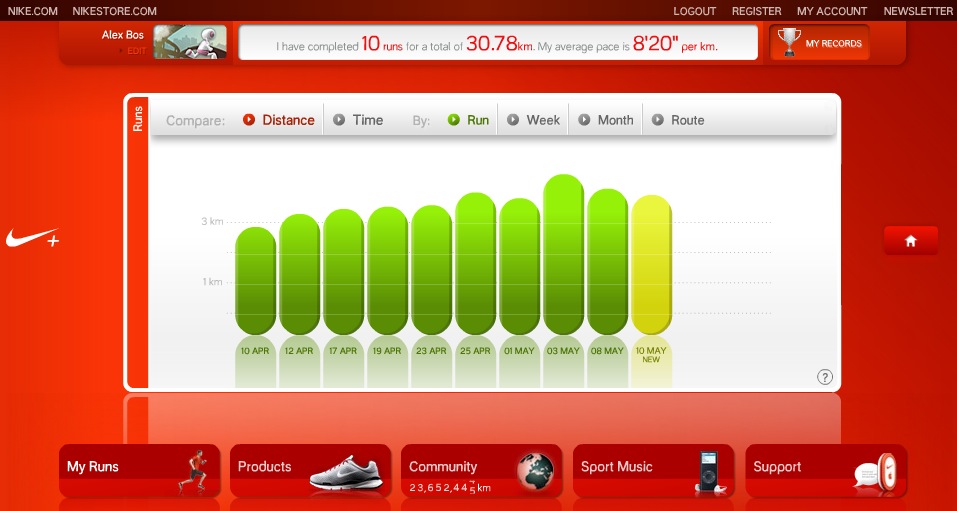 May 3 was my absolute top run, but I felt great then and on top of the world (I had an absolutely smashing surprise Birthday feast arranged by my wife) !
On the actual website if you mouse over the bars you see the date, the time and distance and even a calculation on how much calories you burned. And if you want, you can draw your run using a mashup of Google Maps.
Hopefully, I'll have the discipline and stamina to keep on running the whole series and then some more. One thing I mourn is since I started running I'm no longer losing weight; I'm not gaining either, but boy am I hungry ! 🙂
(Visited 19 times, 1 visits today)